Kalos-Sthénos, 2018, stainless steel, L 71in x D 15.75in x H 38.6in
Permanent public sculpture commissioned by Rubis Mécénat with the city of St Priest, France.
For the Parc des Sens in Saint-Priest, I created Kalos-Sthénos, a public bench that takes the shape of a young man training, his body is horizontal only supported by his hand, almost levitating and defying the limits of gravity. The model of this bench was doing street workout or calisthenics in Tompkins Square Park in NYC when I asked him to pose for me. The bench-sculpture, permanently installed in Parc des Sens, St Priest, is a positive presence within this park with a history of violence and drug dealing. My intention was to show the youth from an angle of strength and control, provide a possible social hangout around its form and bring together passersby from different generations.
Kalos-Sthénos, 2018, stainless steel, L 71in x D 15.75in x H 38.6in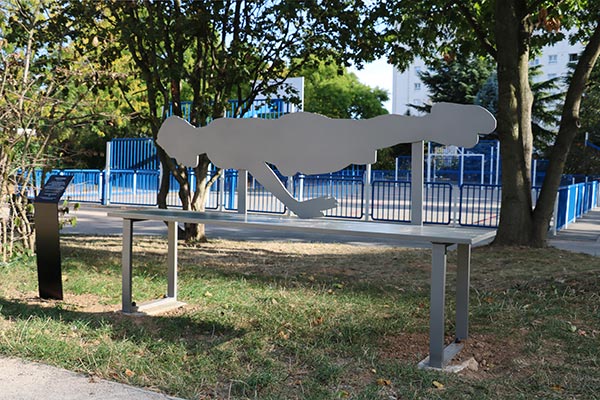 photo credit: © Service communication - Ville de Saint-Priest
Kalos-Sthénos, 2018, stainless steel, L 71in x D 15.75in x H 38.6in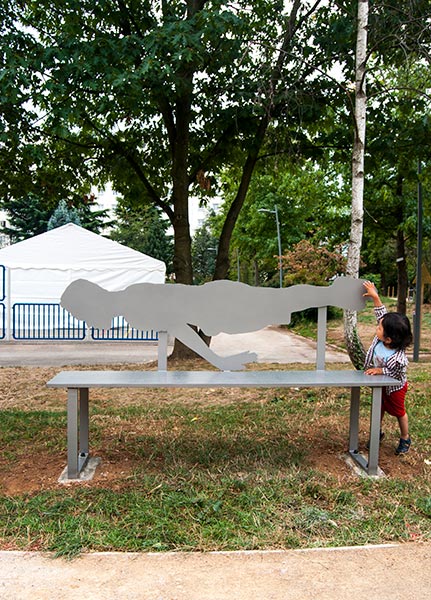 Kalos-Sthénos, 2018, stainless steel, L 71in x D 15.75in x H 38.6in